Very few non-Vulcans are familiar with Vulcan handwriting. It is one of the first things taught to Vulcan children in their formal education, but other than the context of private contemplation, there is very little need to write by hand in modern Vulcan society. Nevertheless, most children learn via this model paragraph.
It is specifically designed to contain all of the letters in common usage — even the very rare long vowels II, UU, OO, EE, AA. Most words that use these sounds are archaic or even virtually obsolete. This is certainly the case in modern Vulcan society because many of them refer to pre-Surakian concepts. The model text reads: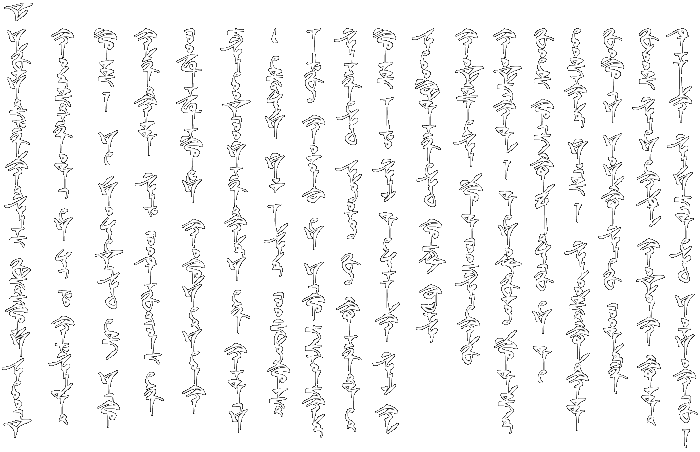 | | |
| --- | --- |
| Every sehlat at the tips of its paws, has sharply honed claws which are long and full of danger. But, surprisingly, they may also be found like forgotten icons or symbols of lost fury in darkened caves or corners — then remaining only like a wizard's magic trick that can bewitch simply because it is so mysterious and as rare as a quest on horseback for a dust devil over the middle of the ocean. Eschewing waste take up that ejected weapon that it not become refuse. Refashion its destiny — commissioned as a tool for your own inscription of your honored clan name — beautifully and with the utmost care. | Ma kanok-sehlat-ves nas-spahk fi'um t'aush-el'ru ik wu eh tehvar-bosh. Ki ak'wikmung isha kup tal-tor veh u'yen-uus il u'tsetsebihk t'paki-kiit svi'mu'gel-tauk il teruk — ish-wak goh hafau u'zaipos-hehni t'ooch ik kup saseestau veling fai'ei ni del-ri-bosh heh vah riwehat vah ta fi-dzhareling pstha tchef t'mazhiv abru'svitan t'masutra. Rik'thinoi abrashau n'ish pusadakh-wun ik ri i'shetau guhsh. Va'ash-da-tor n'buk k'kadvin u'raul na'sha-vikitaya t'omaat dor-yehat vaksuring k'ek'tun. |
If the content of the model paragraph seems strange, realize that the pens (specifically the inked nibs) traditionally used to write on paper-like materials were fashioned from sehlat claws which the animals shed from time to time. Technically the shed portion is only an exterior casing of the main claw, but they have the appearance of full talons. These claw husks have hollow interiors providing a reservoir for the ink into which they are dipped. For the ink to flow properly the tip must be clipped at a precise angle and properly burnished. Compare the bird feather quills of Terra.
With the exception of the vowel I, which is occasionally written inverted upside-down and backwards in order to maintain a better overall fluidity of balance and legibility, all of the letters have only one basic form. Vowels, with the exception of A in vertical writing tend to occur in the center of an imaginary vertical axis (plat). A is often written slightly to the right of vertical strokes in consonants. However, when preceding certain letters (such as Ko and Mo) it does fall much further to the left. This table shows the high variability of its typical positioning: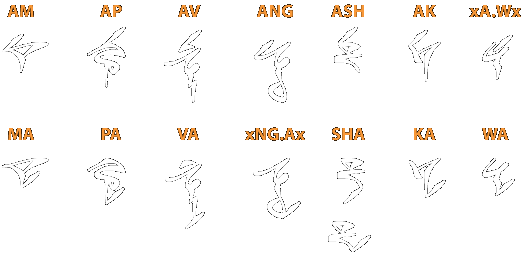 As glyphs have simplified over time the letter (nuhm) for SHo as grown to look very similar to the two-letter combination of O + So (OS). Historically there is no relationship between this upper region of SHo and O, but nevertheless they look very similar today. Many Vulcan teachers are actually fond of this similarity because it gives them an opportunity to teach students to pay very close attention to subtle details. However, there is also a standard convention of optionally writing OS with the O riding on a standard 'carrier'. This provides a clear visual distinction and avoids any ambiguity.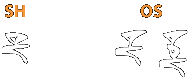 These so-called 'carriers' also come into play heavily when writing prepostions that end in vowel + glottal stop (ʔ: xI' xU' xO' E' xA'). Common examples: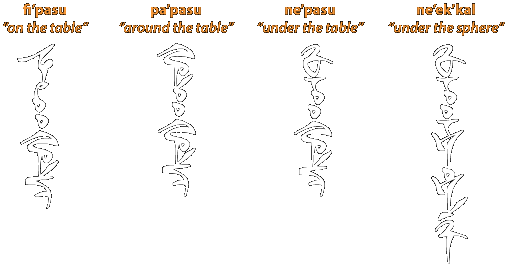 You will see that the carrier is basically the same form as the shala-ralash (glottal stop ʔ), so effectively two small circles occur together. Technically the first is physically connected to its vowel. The 2nd is separated both from the first and typically from the following letter by a small bit of space.
The other scenario in vertical Vulcan writing by hand in which vowel carriers and other vowel variations come importantly into play is common 'little words'. Note that on the word ni below, there is no carrier, the vowel, I, is simply in its upside down variant.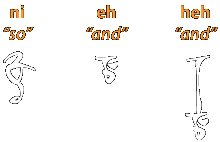 This chart shows the full inventory of all standard handwriting glyphs in the traditional order (Mo, No, oNG, Po, Bo, Fo, Vo, To, Do, Lo, Ro, So, Zo, Tho, SHo, ZHo, TSo, CHo, TCHo, DZHo (Jo), Ko, Go, KHo, Ho, o'o, Yo, Wo, I, IH, II, U, UH, UU, O, OH, OO, OI, E, EH, EE, EI, A, AH, AA, AI, AU) and in the style of neshuk-fek t'sehlat-spahk (sehlat claw pen). They are followed by the numerals 0~9 in the same style.

This example shows the two sentences "Stonn killed the le-matya with an antler that he found in the sand after the animal bit his kneecap. It was mid-afternoon." It is then followed by the numerals 0~9.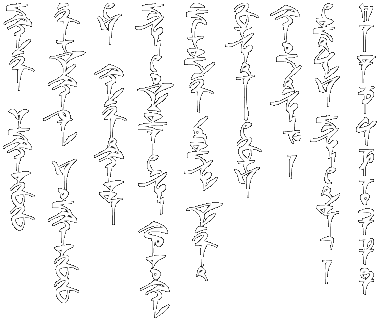 It is very easy to see that this type of script bears no design relationship to ceremonial calligraphy. The same text appears in both formats below. They are from two completely different traditions. However, they share the tendency to be more often written vertically than horizontally.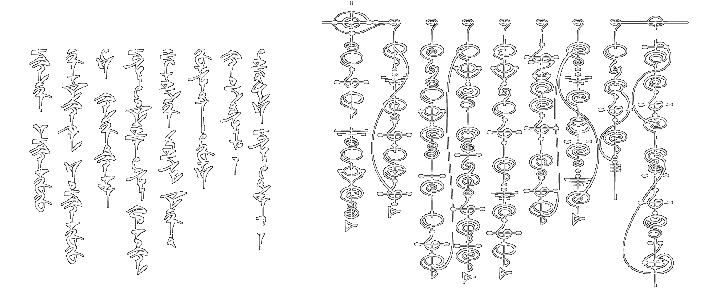 The handwriting glyphs originate from the same traditional system that is sometimes represented on ancient Vulcan dice. But, there is no obvious one to one correlation visually between the two due to the fact that the letters have undergone extensive simplification over time. Stylistically, these letterforms are somewhat similar to the standard script, but do not mimic them directly.



This type of handwriting also appears horizontally and unlike traditional calligraphy does not rotate its glyphs when that occurs. They are simply positioned side by side with spaces between words. However, there are two major stylistic variations regarding the method of writing the vowels. In the most common style, vowels are written as superscript diacritics above the consonants. This is similar to some Indic abugida systems on Terra. The main reason for this is spacial efficiency. Compare the horizontal text above and below this paragraph to see that the preceding style requires less horizontal space than the one that follows. In the independent vowel model, each vocalic glyph rides on a 'carrier' in a similar fashion to Korean syllables that begin with a silent 'ng'.



If having two different systems for horizontal handwriting seems illogical, quite the opposite is true. Vulcan children are taught that logic is not merely some universal correct answer to a question, but rather the concept or discipline of processing the information at hand to make an optimally informed choice. When writing horizontally one must choose the style which is most logical for the immediate task. One must choose overall efficiency over clean, linear simplicity. The correct answer lies only in the mind of the maker of the choice.